4 MORE THINGS THAT AFFECT YOUR HOME INSURANCE RATES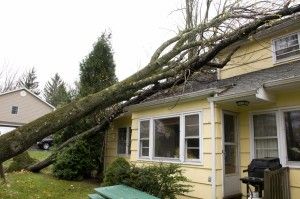 We talked before about the most common things that affect your home insurance rates. These included the type of house you have, the age of it, and where your home is, such as whether it has adequate access to fire protection services and if it's in an area where something is more likely to happen to it.
Those aren't the only aspects that determine how your home insurances quotes will be determined. Here are a few more
Claims in your area – Whenever something big happens — whether it's a natural disaster like a tornado or something as simple as a bad hail storm — a good percentage of the people in your area will be making claims. When that happens, everyone's rates will go up to offset that extraordinary payout by the insurance companies.
Personal claims – It's true what they say…if you can avoid making a claim, it's best to do so. The more claims you make, the more your rates will be. So if a hail storm damages your window screens, it's going to be better to spend the $40 at Home Depot for the materials than to make a claim.
Your deductible – When you make a claim there will be a deductible, which is part of the claim that you're responsible for. Your rates can be lower if you choose a higher deductible.
Your other coverage – When you bundle your homeowners insurance with addition plans, including health insurance or auto insurance, you'll most likely receive a rebate.
Of course, the best way to get home insurance quotes is to stop by or call us at our Spearfish or Rapid City offices. We'll make sure to find you the homeowners insurance you need!

Home, Life, Auto, Liability; we consult on a variety of personal insurance policies. Look to our experts for valuable advice on the wide range of insurance policies available on the market today.

Whether the damage was accidental or was the result of third-party liability, commercial insurance provides you the peace of mind you need to remain focused on your business.
DON'T TAKE OUR WORD FOR IT
Check out the testimonials from our happy customers below
Professional and Positive
They are prompt in responding to requests as you know, we can be a fast paced office needing to get information out the door; they always have a professional and positive attitude, and make …Read More
T. Armstrong - Dream Design International, Inc.
Proactive & Responsive
We have been working with Black Hills Agency for over 20 years. They have always been very proactive and responsive to our needs, and have been able to secure a wide range of insurance cov…Read More
G. Schweiss - Pete Lien & Sons, Inc.
Highly Recommend
We have been a client at BH Insurance Agency for many years and hold them in the highest regard. They are very prompt and courteous, and always have our company's best interest in mind. We…Read More
J. Sorensen - Forest Products Distributors, Inc.