MAKING HOME, LIFE, HEALTH, AND CAR INSURANCE EASY, BECAUSE YOU'RE OUR NEIGHBORS!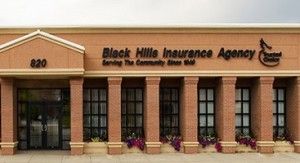 Welcome to the new Black Hills Insurance Agency website. We hope that all of the information you find here is helpful in starting your search for insurance, whether it's health insurance, homeowners insurance, or if you're just looking for car insurance quotes.
It's becoming more and more a requirement in today's world to have insurance. When you have a mortgage, you must have insurance in order to protect the bank's interests. When you own a car, state law requires you to purchase liability coverage, as well as uninsured and underinsured motorist coverage. And where once health insurance was tied to your employer, you now how more options than ever.
Rapid City might be the second largest city in South Dakota, but we're still pretty small. We live close to many of our customers, shop at the same grocery stores, and bump into them at the park. That's why we've made it our goal to be the friendliest insurance agency in Rapid City (we know the folks in our Spearfish branch feel the same way). So what are our goals?
We make it easy: We do this every day, and have for more than 60 years. We know the industry inside and out, but also understand that it's a completely foreign world to many of our customers. We make it our goal to translate "insurance-speak" into language that anyone can understand.
We offer incredible selection: Because we have established relationships with so many different insurance companies over the decades, we are able to find the best possible insurance options for you no matter what your situation.
We've survived the very competitive insurance business for so long because we work harder for our customers. Whether you're looking for homeowners, life, car, or health insurance, Black Hills Insurance is there for you. Contact us today!

Home, Life, Auto, Liability; we consult on a variety of personal insurance policies. Look to our experts for valuable advice on the wide range of insurance policies available on the market today.

Whether the damage was accidental or was the result of third-party liability, commercial insurance provides you the peace of mind you need to remain focused on your business.
DON'T TAKE OUR WORD FOR IT
Check out the testimonials from our happy customers below
Professional and Positive
They are prompt in responding to requests as you know, we can be a fast paced office needing to get information out the door; they always have a professional and positive attitude, and make …Read More
T. Armstrong - Dream Design International, Inc.
Proactive & Responsive
We have been working with Black Hills Agency for over 20 years. They have always been very proactive and responsive to our needs, and have been able to secure a wide range of insurance cov…Read More
G. Schweiss - Pete Lien & Sons, Inc.
Highly Recommend
We have been a client at BH Insurance Agency for many years and hold them in the highest regard. They are very prompt and courteous, and always have our company's best interest in mind. We…Read More
J. Sorensen - Forest Products Distributors, Inc.