THOSE INSURANCE INDUSTRY TERMS THAT APPLY TO EVERY TYPE OF INSURANCE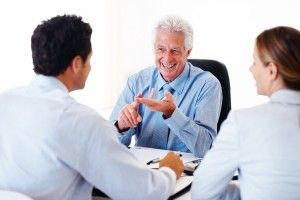 We'll admit it…we think about insurance more than you do! We talk about it over lunch, we talk about it on the phone, we talk about it with customers from all over the Rapid City and Spearfish areas all the time. Every day…even weekends.
The terms that we use are second-nature to us. Deductible, agent, underwriting, riders…we've had a customer who is college educated and has been buying our insurance for years, but still have to have us define the word "premium" every time we have a discussion (granted, he's admitted that his brain actively ceases at the mere mention of insurance).
So here are some of the more common insurance terms and what they mean. If you'd like to write them on your hand as a cheat sheet before you come in and see us, we won't mind. We'll start with the two that are most often confused with each other.
Premium: This is the amount of money you're paying for insurance. It's what you pay monthly (for, say, health insurance), twice-yearly (most often for car insurance), or yearly (like homeowners insurance).
Deductible: Before insurance starts paying, a deductible has to be reached. This is the amount of money you pay out-of-pocket, and then insurance takes over the rest. Take auto insurance, for example: if you have a $500 deductible, it would not cover the replacement of a $250 windshield replacement. However, it would cover $1500 of a $2000 claim. Speaking of claims…
Claim: Here's a term most people understand. A claim is the request that an insurance company pay for damages that have been incurred by the insured. The claim doesn't necessarily have to be filed by the insured, and often isn't. Take health insurance, for example…the doctor's office or hospital is making the claim on your behalf. For homeowners insurance, a roofing company might make the claim on your behalf after a hailstorm.
Rider: Not everything you own in always covered in basic car insurance or homeowners insurance. Let's take camera equipment, for example. It might be protected under your homeowners insurance when it's in your home, and under your auto insurance when it's in your car. But what about when you're hiking down by the river? Riders are additions to an insurance policy so that you're covered on specific items no matter where you are.
Underwriting: We want to sell you insurance…that's what we're here for. But first we have to decide if it's a good idea to sell you insurance, and for how much. As an extreme example, if every house you've ever lived in has burned to the ground, we might not be interested in selling you homeowners insurance!
Agent: As an agent, we're here to help you compare insurance rates and policies from different providers, many of which are unavailable to the general public unless you get it through an independent agent.
There are thousands of terms when it comes to insurance, but these are some of the most common. As we continue our blogs, we're sure to have some more terms that might confuse people who don't work in the industry. Have any questions that you need answered right away? Give us a call or stop by our Spearfish and Rapid City offices!

Home, Life, Auto, Liability; we consult on a variety of personal insurance policies. Look to our experts for valuable advice on the wide range of insurance policies available on the market today.

Whether the damage was accidental or was the result of third-party liability, commercial insurance provides you the peace of mind you need to remain focused on your business.
DON'T TAKE OUR WORD FOR IT
Check out the testimonials from our happy customers below
Professional and Positive
They are prompt in responding to requests as you know, we can be a fast paced office needing to get information out the door; they always have a professional and positive attitude, and make …Read More
T. Armstrong - Dream Design International, Inc.
Proactive & Responsive
We have been working with Black Hills Agency for over 20 years. They have always been very proactive and responsive to our needs, and have been able to secure a wide range of insurance cov…Read More
G. Schweiss - Pete Lien & Sons, Inc.
Highly Recommend
We have been a client at BH Insurance Agency for many years and hold them in the highest regard. They are very prompt and courteous, and always have our company's best interest in mind. We…Read More
J. Sorensen - Forest Products Distributors, Inc.