WATER IS ALMOST ALWAYS A RIDER ON YOUR HOMEOWNERS INSURANCE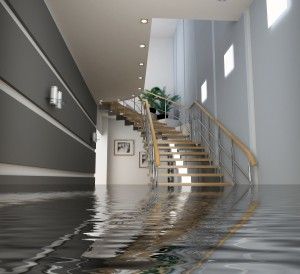 We've talked about the Black Hills Flood back in 1972, when the Rapid Creek flooded and took over 1300 homes. While much has been done to prevent that from happening again, it's not just the water from an overflowing river that you have to worry about. Water can come from many places, including:
Burst pipes – Does it get cold in Rapid City? Silly question, right? If your heat goes out, you might have more problems than just a cold night. You could be in for major problems if the water in your pipes bursts. This leads not only to water line and sewer repair, but also to big problems when the water in those pipes thaws and starts to leak all over everything. Getting this covered under your home insurance is always a good idea.
Sewer back-ups – Sewer backup insurance is kind of like life insurance…many of us avoid it because we simply don't want to think about it! But it can and does happen all the time. If your sewer backs up, you've got enough problems; you don't want to have to deal with finding the money to deal with your horrible situation. If you're covered with your homeowners insurance, you won't have to worry half as much.
Rain – We're not talking about rain from an overflowing river, but rain that might get into your house in other ways. If you're in a lower-lying area and the storm drains are full, the rain will just bypass it and head right into your home. Also, clogged gutters on your roof can cause all of the water to overflow in the wrong place, and if that place is your lightwell in your basement, then you might come home to a very flooded house.
When you think of all the damage that water can do, it's important to spend a little extra and have yourself covered. If you think you're underinsured or would like to discuss getting homeowners insurance with us, give Black Hills Insurance a call today!

Home, Life, Auto, Liability; we consult on a variety of personal insurance policies. Look to our experts for valuable advice on the wide range of insurance policies available on the market today.

Whether the damage was accidental or was the result of third-party liability, commercial insurance provides you the peace of mind you need to remain focused on your business.
DON'T TAKE OUR WORD FOR IT
Check out the testimonials from our happy customers below
Professional and Positive
They are prompt in responding to requests as you know, we can be a fast paced office needing to get information out the door; they always have a professional and positive attitude, and make …Read More
T. Armstrong - Dream Design International, Inc.
Proactive & Responsive
We have been working with Black Hills Agency for over 20 years. They have always been very proactive and responsive to our needs, and have been able to secure a wide range of insurance cov…Read More
G. Schweiss - Pete Lien & Sons, Inc.
Highly Recommend
We have been a client at BH Insurance Agency for many years and hold them in the highest regard. They are very prompt and courteous, and always have our company's best interest in mind. We…Read More
J. Sorensen - Forest Products Distributors, Inc.