WHO'S LIFE INSURANCE REALLY FOR, ANYWAY?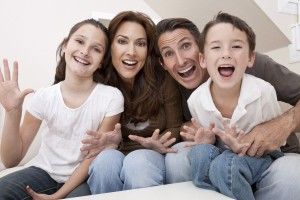 We've talked before about how differently people can view the idea of life insurance. For some it's morbid, for some it's soothing, and others just dismiss the idea altogether.
No matter how you view it, it's important to think not only about how people feel about it, but who it's actually for.
For you: Of course, when you have a term life insurance policy you're never going to see the money. That's really the point, of course, so that it can provide for you family if something should happen to you.
But while you might not be able to enjoy any of the money after you're gone, it's nice to walk around knowing that your family would be okay, and that you're not putting them into dire financial straits simply because you never got around to buying life insurance. You can have a sense of peace.
For your family: Of course, the main reason people buy life insurance is for the family left behind. Life insurance is especially important if you're the breadwinner, but even if you're not the primary money earner the loss of a family member can be devastating financially. Funeral expenses, attorney fees, and hospital fees that you might have wracked up before your death. Having life insurance keeps a family safe. It also gives them a sense of peace, knowing that you care enough about them to plan for their future.
Life insurance is for the living, so be sure you have enough to keep them covered should something unexpected happen. Call us today at either our Spearfish or Rapid City locations to find out how you can get peace of mind from life insurance.

Home, Life, Auto, Liability; we consult on a variety of personal insurance policies. Look to our experts for valuable advice on the wide range of insurance policies available on the market today.

Whether the damage was accidental or was the result of third-party liability, commercial insurance provides you the peace of mind you need to remain focused on your business.
DON'T TAKE OUR WORD FOR IT
Check out the testimonials from our happy customers below
Professional and Positive
They are prompt in responding to requests as you know, we can be a fast paced office needing to get information out the door; they always have a professional and positive attitude, and make …Read More
T. Armstrong - Dream Design International, Inc.
Proactive & Responsive
We have been working with Black Hills Agency for over 20 years. They have always been very proactive and responsive to our needs, and have been able to secure a wide range of insurance cov…Read More
G. Schweiss - Pete Lien & Sons, Inc.
Highly Recommend
We have been a client at BH Insurance Agency for many years and hold them in the highest regard. They are very prompt and courteous, and always have our company's best interest in mind. We…Read More
J. Sorensen - Forest Products Distributors, Inc.