3 SURPRISING THINGS THAT AFFECT YOUR HOMEOWNERS INSURANCE QUOTES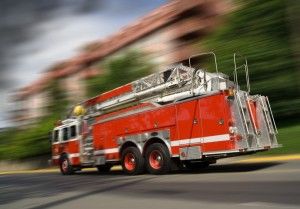 We've talked before about some of the determiners that will affect your homeowners insurance quotes. But it goes even deeper than that. Here are a few more things that can determine how much you'll be paying.
Having A Firehouse Nearby — Ever since electricity replaced open flames as the main source of light and heat, fires aren't nearly the concern they were 150 years ago. But when they happen, they are often the biggest catastrophic loss to a home, because very little can be recovered. Being able to put the fire out before the home is a total loss can prevent even more costly claims, so having a highly-rated professional fire department nearby can reduce your rates. Being close to fire hydrants can also help (or, more likely, being far away from them can hurt).
Your Dog Might Be Biting Your Wallet — Certain dog breeds have a bad reputation, and some home insurance carriers can charge higher rates depending on if you have a dog that has been statistically proven to have more problems.
Your Credit Score Strikes Again! — Much like a Social Security number was never meant to become a national identity number, credit scores weren't supposed play such a huge part in our lives. But it's come to be that way, and there's no avoiding it. Like all insurance, it comes down to risk…numbers show that people with better credit make fewer claims. Cleaning up your credit can positively affect your homeowners insurance premiums.
Ready to make the most of your homeowners insurance? Give us a call and we can help you get the best possible rates.

Home, Life, Auto, Liability; we consult on a variety of personal insurance policies. Look to our experts for valuable advice on the wide range of insurance policies available on the market today.

Whether the damage was accidental or was the result of third-party liability, commercial insurance provides you the peace of mind you need to remain focused on your business.
DON'T TAKE OUR WORD FOR IT
Check out the testimonials from our happy customers below
Professional and Positive
They are prompt in responding to requests as you know, we can be a fast paced office needing to get information out the door; they always have a professional and positive attitude, and make …Read More
T. Armstrong - Dream Design International, Inc.
Proactive & Responsive
We have been working with Black Hills Agency for over 20 years. They have always been very proactive and responsive to our needs, and have been able to secure a wide range of insurance cov…Read More
G. Schweiss - Pete Lien & Sons, Inc.
Highly Recommend
We have been a client at BH Insurance Agency for many years and hold them in the highest regard. They are very prompt and courteous, and always have our company's best interest in mind. We…Read More
J. Sorensen - Forest Products Distributors, Inc.